State Specific Scholarships
Many state restaurant and hotel associations have scholarships you may be eligible to receive. Check out the list below to see if your state has a program.

California Restaurant Association Scholarship

Florida Restaurant and Lodging Association Scholarship

Georgia Hospitality Education Foundation Scholarship

Illinois Restaurant Association Scholarship

Kansas Restaurant Association Scholarship

Louisiana Restaurant Association Education Foundation
Restaurant Association of Maryland Scholarship

Minnesota Hospitality Education Foundation Scholarship

Mississippi Hospitality & Restaurant Association Scholarship

North Carolina Restaurant & Lodging Association Scholarship

New Jersey Restaurant Association Scholarship

New Mexico Restaurant Association Scholarship

Ohio Restaurant Association Education Foundation Scholarship

Oklahoma Restaurant Association Scholarship

South Carolina Restaurant and Lodging Association

South Dakota Retailers Association Scholarship
Wisconsin Restaurant Association Scholarship
If you're thinking about going to college, earning your ProStart® Certificate of Achievement is a good idea!
If you're going to study culinary arts or hospitality management in college, the Certificate of Achievement is like a free pass to get out of some college courses. Many colleges and universities have "Articulation Agreements" with ProStart®. That means students who have a ProStart® COA don't have to take some of the introductory classes that are required for non-ProStart® students. Ask your teacher for the ProStart® Passport to learn if the colleges you are considering "articulate" with ProStart®. If you aren't planning a career in food service, having a ProStart® Certificate of Achievement can help you find a job to help pay your way through college. Presenting a copy of your COA when you apply for a job tells the employer you have the skills to succeed.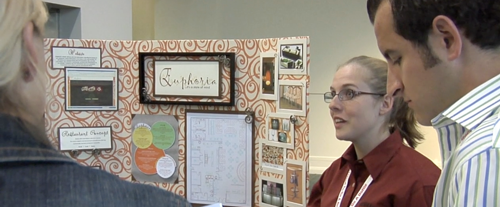 ProStart® COA students only (What is a COA?)
High School Graduate / GED (First Time Freshman)
Students already in college ( ProStart® Alumni)
NRAEF Undergraduate Scholarship
Students enrolled in the ManageFirst program
General Academic for all hospitality related
Culinary Students
Culinary Trust Foundation Scholarship Just remember scholarships have rules, some organizations only allow you to receive one or two scholarships from them. Make sure you read all the rules, terms and conditions.
Hey ProStart Students:




A special message from the cool scholarship people at the NRAEF
If you are a ProStart alumni or a ManageFirst Student, you do not have to fill out a separate NRAEF application.  Please include a copy of your certificate(s) in your application.  The scholarship selection judges will consider your achievement in earning this certificate as part of the overall evaluation of your scholarship application packet. Read the application instructions to learn more.